This 5-ingredient cochinita pibil recipe is extra-easy to make in the Instant Pot or slow cooker, it's full of the best savory citrusy flavors, and it can be served in everything from tacos to burritos, nachos and more.  (This post contains affiliate links.)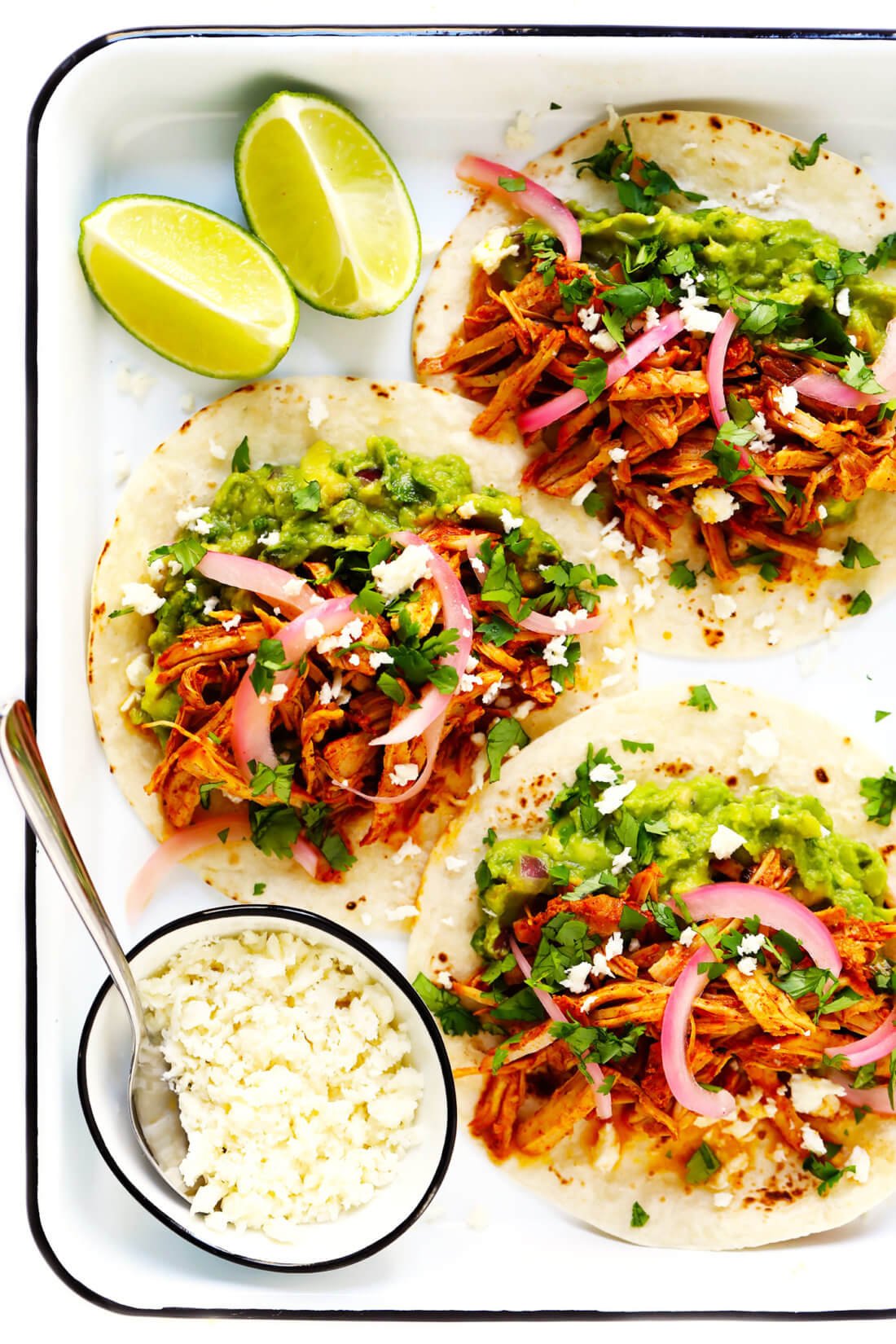 We ate approximately 1 million tacos during our trip to Mexico City this summer.  Which meant that, naturally, I came home with approximately 1 million new recipe ideas to try.  (I hope you're ready for lots of Mexican food this fall!)  But amongst all of the amazing dishes we tasted, this trip officially convinced me that my first priority upon arriving back home needed to be finally learning how to make one of my favorite classic pork recipes that we saw offered at just about every street taco stand in Mexico City…
…cochinita pibil.  ♡
Also known as puerco pibil or cochinita con achiote, this traditional Mexican pulled pork originally hails from the Yucatán Peninsula, but is now widely popular all over Mexico and beyond.  The pork itself is flavored with a super-simple marinade of tart citrus juice and achiote paste (<– our bright-red starring ingredient that looks super-spicy, but actually tastes quite mild and delicious).  Once the pork has been marinated in the achiote mixture, it is traditionally wrapped in banana leaves and cooked underground pit-bbq-style until it is ultra juicy and fall-apart tender and crazy delicious.  It's then shredded and served with pickled red onions and fresh cilantro, plus maybe a few sliced habañero peppers if you're looking for an extra kick.  Basically, think of cochinita pibil as carnitas' more colorful, citrus-y, achiote-y, slow-cooked, cousin from down south.  Muy típico, y muy delicioso.
Similar to pork carnitas, there are about a million ways to serve up cochinita pibil — loaded up into street tacos, tucked into burritos, sprinkled on nachos, or whatever else may sound good.  Also, as is the case with most pulled pork recipes, I'm also pleased to report that cochinita pibil cooks up beautifully in the pressure cooker or slow cooker too!  I know, we're officially veering from tradition here.  But if you're like me and don't currently have easy access to banana leaves or an underground bbq pit, this recipe provides an accessible way to make a quick batch of cochinita pibil that still tastes absolutely amazing.
Oh and bonus?!  With pressure cooking or slow-cooking, there's also no need to let the pork marinate for hours and hours in advance before cooking.  So all you need for this recipe is about ten minutes of prep time, plus about 1 hour in the Instant Pot (or 4-8 hours in the Crock-Pot).  Then the most delicious batch of authentic-tasting cochinita pibil can be yours to enjoy in time for dinner.
Let's make some!
(more…)
Original source: https://www.gimmesomeoven.com/cochinita-pibil/