Roasted Broccoli and Farro Bowls
These Roasted Broccoli and Farro Bowls are loaded up with hearty whole grains, avocado, veggies, greens, crispy almonds, and the dreamiest lemon-tahini dressing.  Naturally vegan and delicious!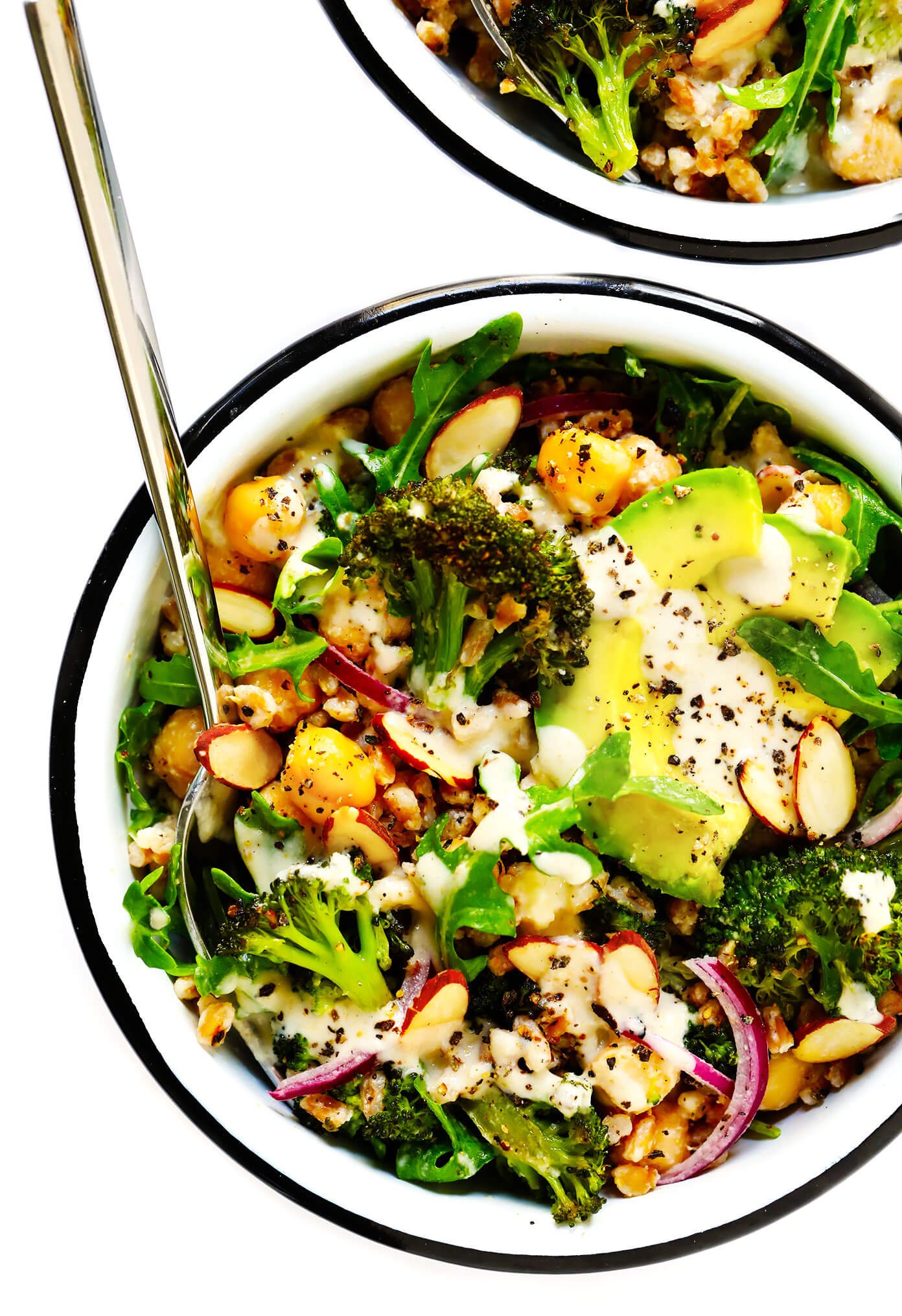 Meet the yummy grain bowls that I've been living on these past few weeks. ♡
These initially came about as an impromptu clean-out-the-fridge sort of meal after vacation, when I decided to roast up a bunch of broccoli that was on its last leg and make use of the farro that I recently realized I have been hoarding in the pantry (ha, whoops and yum).  But holy cow, once I added in some fresh avocado and arugula and toasted almonds, then tossed everything together with my favorite dreamy tahini dressing, both Barclay and I agreed that these farro bowls was a total home run.
Mostly, we love it because it's full of nutritious ingredients that we love and that make us feel great.  It just so happens to be naturally vegetarian and vegan, although you're welcome to add in some crumbled feta or goat cheese (or even some chicken) if you'd like.  It holds up really nicely in the fridge, making it a great meal-prep recipe for easy lunches or dinners for the week ahead.  It can be served as either a main course or as a side dish.  It's super-easy to customize with whatever grains/rice/lentils, veggies, greens, beans, and nuts that you happen to have on hand.  And did I mention that the dressing is one of my favorites in the world?!  Yep, you should definitely make a double batch while you're at it to drizzle on any other meals you're cooking during the week ahead.
Bottom line — I think you're going to love them.  Let's make a batch!
(more…)
Original source: https://www.gimmesomeoven.com/roasted-broccoli-farro-bowls/